We understand the power of social trading.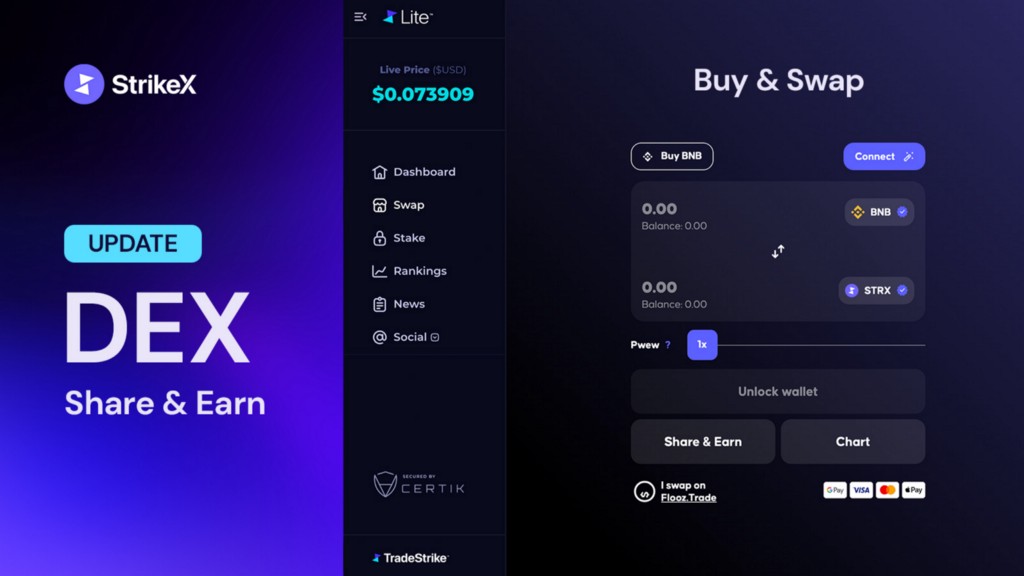 Sharing your investments with friends, family and other crypto investors alike is an imperative part of any community's growth. With this in mind, we have partnered with Flooz.Trade. Using their referral programme, community members can profit from shilling… and it could not be more simple.
How it works
1. When on the Swap section of our DEX — https://app.strikex.com simply connect your wallet and click the 'Share & Earn' Button
2. Next, you'll need to copy your referral link by clicking on the blue icon on the bottom right-hand corner. Once you have this copied to your clipboard you are ready to share!
3. Armed with your new referral link, you are ready to spread the word about StrikeX to others. When someone clicks on your referral link they will see the display shown below.
This page has links to all of our Social media pages as well as our website — strikex.com. Should the potential new investor choose to purchase some STRX using the above swap panel… YOU get paid!
Getting Paid –
Once the receiver of your code makes that initial purchase, you receive 0.1% (paid directly to your wallet in BNB) of not only that transaction, but EVERY future StrikeX purchase that the user goes on to buy via our DEX.
We believe that the addition of Flooz.Trade's referral system is a great way to reward our loyal community's efforts, whilst further incentivising people to spread the word about StrikeX.
— The StrikeX Team.
Follow us on Twitter, Discord, our Website and Medium for more exciting news.
StrikeX is a UK-registered limited company, and we're building FinTech tools to empower people to take control of their investments. Our StrikeX Wallet is due for release in Q1/Q2 2022 and our flagship product; TradeStrike is scheduled for Q4 2022.
Token Details
Name: StrikeX
Ticker: $STRX
Contract Address: 0xd6fdde76b8c1c45b33790cc8751d5b88984c44ec
Liquidity Lock: https://bit.ly/StrikeXLiquidity
Available on: Pancakeswap (or any BSC exchange) / Probit / BitMart
---
DEX update: Share & Earn. was originally published in StrikeX on Medium, where people are continuing the conversation by highlighting and responding to this story.