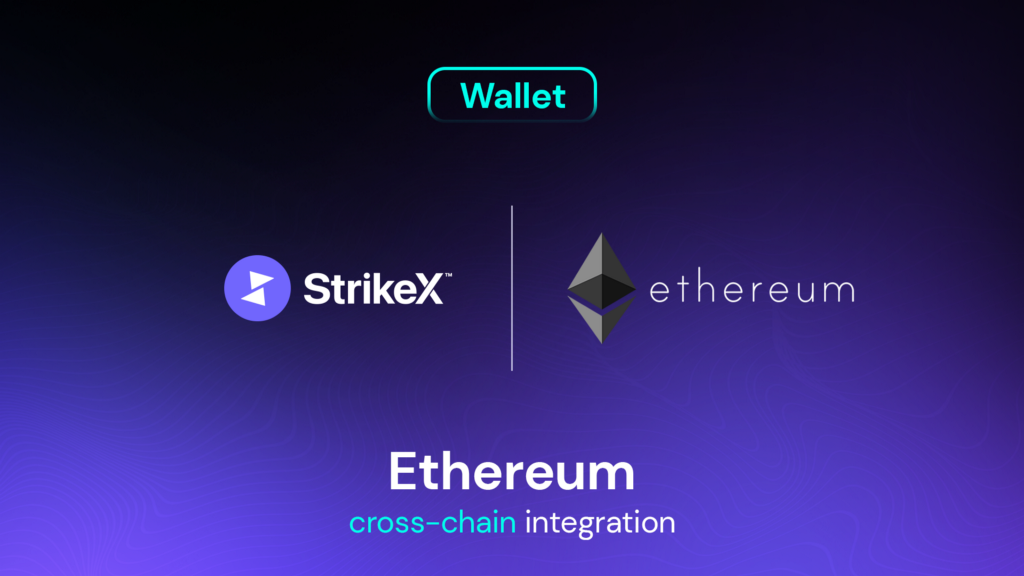 At StrikeX Technologies Ltd. we keep true to our vision and that is creating products that will disrupt the industry with their innovative design and functionality.
The current wallet options for retail investors all over the world have been limited for too long, without a fully comprehensive crypto wallet that meets all their needs. The StrikeX wallet covers every base when it comes to features designed to make trading tokenised assets more straight-forward for everyone.
We are excited to announce that we are adding Ethereum to the blockchains our users will be able to access through the StrikeX wallet from launch: This list also includes Binance Smart Chain, Bitcoin and Solana; meaning users will have the ability to buy, sell, store and cross-chain swap their tokens across all these networks.
Ethereum's ability to enable the deployment of smart contracts and decentralised applications without interference,has made it an essential building block of the crypto space. With millions of active holders a tireless list of uses cases, the addition of the Ethereum network makes the StrikeX wallet a solid alternative to the currently available options for millions of daily users.
One of the main goals of the StrikeX wallet is to bring the worlds of fiat currencies and blockchain networks closer together through intuitive user interfaces, seamless on/off ramp and cross-chain capabilities. Our unique DeFi products will re-shape the world of finance for investors of all levels, be part of it.
To find out more about the StrikeX wallet please visit… https://tradestrike.medium.com/strikex-wallet-features-b830d4d041d8
To find out more about StrikeX Technologies Ltd please visit https://strikex.com
— The StrikeX Team.
Follow us on Twitter, Discord, our Website and Medium for more exciting news.
StrikeX is a UK-registered limited company, and we are building FinTech tools to empower people to take control of their investments. Our StrikeX Wallet is due for release in Q1/Q2 2022 and, our flagship product, TradeStrike is scheduled for Q4 2022.
Token Details
Name: StrikeX
Ticker: $STRX
Contract Address: 0xd6fdde76b8c1c45b33790cc8751d5b88984c44ec
Liquidity Lock: https://bit.ly/StrikeXLiquidity
Available on: TradeStrike Lite DEX (Direct Purchase) / Pancakeswap (or any BSC exchange) / Probit / BitMart
---
Ethereum Integration Officially Announced for the StrikeX Wallet was originally published in StrikeX on Medium, where people are continuing the conversation by highlighting and responding to this story.