Building trust in blockchains — Blockchain analysis. Compliance. Financial crime. DeFi safety.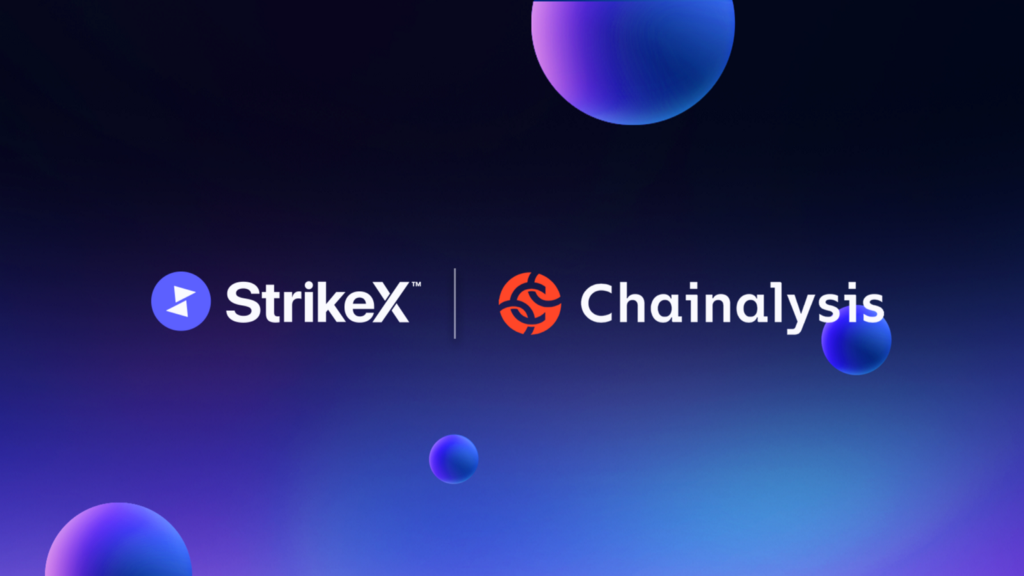 Blockchain will revolutionise multiple industries, however, a greater sense of trust and transparency is paramount to this technology's full potential. As part of ongoing efforts to ensure StrikeX stays ahead of the curve, we are delighted to announce our partnership with industry-leading blockchain data specialists; Chainalysis.
Who are Chainalysis?
Chainalysis are blockchain analyst specialists who provide comprehensive data, software and research services to over 700+ government agencies, exchanges & financial institutions in over 70+ countries worldwide, with monitoring that accounts for over $400B+ worth of transactions per month.
"Criminals continue to find ways to finance and conceal illicit activity on the blockchain, even though the share of cryptocurrency volume related to illicit activity is lower than ever. Chainalysis Investigations Solutions are trusted globally by government agencies and private institutions to trace and understand blockchain activity. It powers investigators and analysts with real-time cryptocurrency intelligence, allowing them to map addresses to named services, detect illicit activity as it happens, and build cases."
How StrikeX will utilise this partnership
With over 100 million cryptocurrency addresses mapped to real-life entities, StrikeX will leverage Chainalysis' software throughout our eco-system to screen transactions in real-time and act accordingly based on a variable risk score, allowing us to flag and block any transactions associated with money laundering, darknet activities, cybercrime, or sanctioned entities. With this partnership in place, this ensures that StrikeX can stay compliant with local and worldwide legislation, as well as interact safely as a developing technology.
"Chainalysis is the gold standard in blockchain data analysis, leveraging their solutions allows us to operate above and beyond the current regulatory framework. We feel this partnership is an essential step in laying the foundations of the StrikeX ecosystem."
— Joe Jowett, CEO at StrikeX Technologies Ltd.
Follow us on Twitter, Discord, our Website and Medium for more exciting news.
StrikeX Technologies is a UK-registered limited company, and we're building FinTech tools to empower people to take control of their investments. Our StrikeX Wallet is due for release in Q2 2022 and our flagship product; TradeStrike is scheduled for Q4 2022.
Our Token Details
Name: StrikeX
Ticker: $STRX
Contract Address: 0xd6fdde76b8c1c45b33790cc8751d5b88984c44ec
Liquidity Lock: https://bit.ly/StrikeXLiquidity
Available on: Pancakeswap / Probit /BitMart