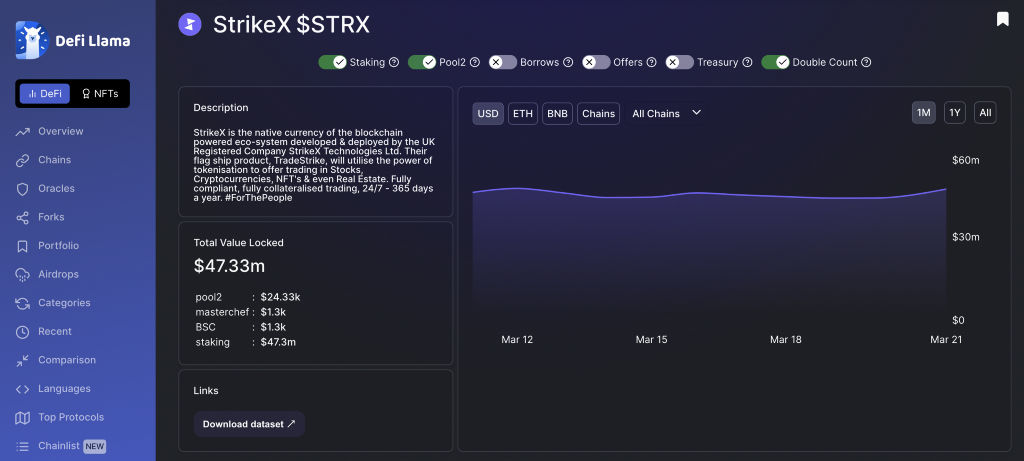 StrikeX is now live and trackable on DefiLlama, and we come in at #13 for TVL out of all BNB Chain DEX's listed!
StrikeX's total value locked (TVL) has reached $46.33m, ranking it 13th out of all the BNB Chain DEX's listed on DefiLlama.
Staking must be enabled for this to show, because over 71% of the total supply of $STRX is being staked by holders; a greater proportion than any other BNB Chain DEX in the top 10 DeFiLlama rankings!
This means 71% of the supply is not in circulation, which pushes down our market capitalization to $10M compared to the fully diluted Market Cap of $72M. All proof of our community's incredible support and faith in the solid fundamentals of the project.
All $STRX holders can benefit from a dynamic APY varying between 10% and 20%. There are also no lock-in commitments meaning there's absolutely no reason not to stake! The DEX also has a Buy & Swap feature which enables fast, straightforward and secure purchasing of crypto directly through Visa, MasterCard, Apple Pay and bank transfer with over 180 different currencies accepted.
About DefiLlama
DefiLlama is an open and transparent TVL aggregator for DeFi. Users can seamlessly track the Total Value Locked (TVL) across over 800 different Defi Protocols from 80 different Blockchains. They pride themselves on producing inclusive, non-biased, and community-driven statistics for the decentralised finance industry.
Be sure to comment, like and retweet: https://twitter.com/DefiLlama/status/1502189618640400385
Check out the StrikeX DefiLlama page here: https://defillama.com/protocol/strikex
And the DeFiLlama rankings here: https://defillama.com/protocols/dexes/BSC
— The StrikeX Team.
Follow us on Twitter, Discord, our Website and Medium for more exciting news.
StrikeX Technologies is a UK-registered limited company, and we're building FinTech tools to empower people to take control of their investments. Our StrikeX Wallet is due for release in Q1/Q2 2022 and our flagship product; TradeStrike is scheduled for Q4 2022.
Token Details
Name: StrikeX
Ticker: $STRX
Contract Address: 0xd6fdde76b8c1c45b33790cc8751d5b88984c44ec
Liquidity Lock: https://bit.ly/StrikeXLiquidity
Available on: TradeStrike Lite DEX (Direct Purchase) / Pancakeswap / Probit / BitMart
---
StrikeX ranks #13 for TVL on the BNB Chain, according to Defi Llama was originally published in StrikeX on Medium, where people are continuing the conversation by highlighting and responding to this story.