https://medium.com/media/85bb28f5d29e3b8c311d20ebf0bbb28d/href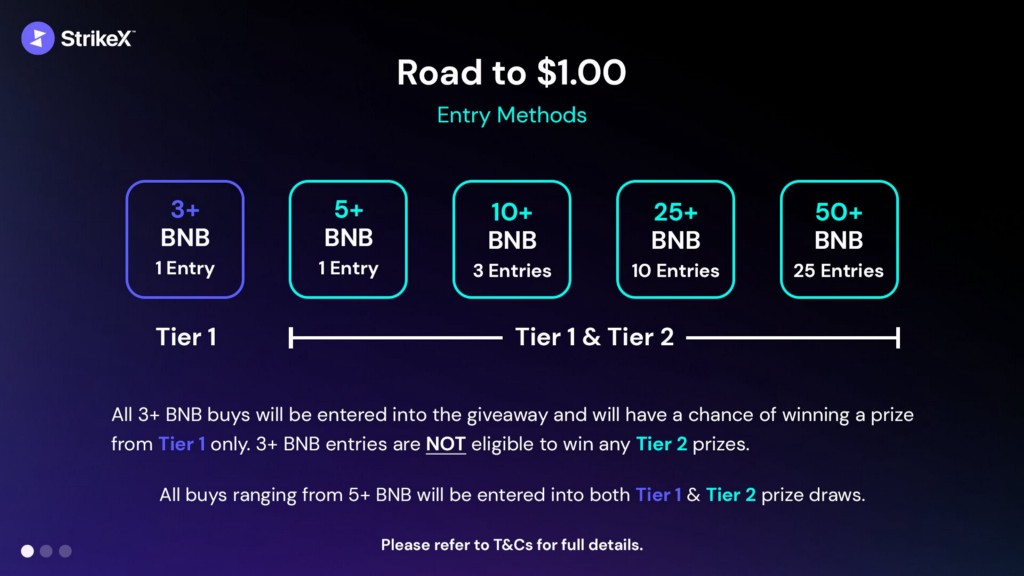 The following terms and conditions will apply until the conclusion of the competition:
– BSC transactions only
– All transactions will be monitored by StrikeX
– The prize draw is at our discretion, any suspicious activity or manipulation could result in your entry being disqualified
– Selling and rebuying STRX will not earn you additional entries
– Each transaction determines the number of entries rewarded e.g., two separate 5 BNB buys will not gain you 3 entries
– Selling STRX will void entries gained from the original transaction
– There will be opportunities throughout the giveaway to earn free entries
The Giveaway:
– The Lamborghini prize will be drawn when the price of STRX remains above $1.00 for a minimum of 7 consecutive days
– Lamborghini to be purchased at $0.65 and used as a marketing asset
– All prizes (excluding the Lamborghini) will be drawn once STRX surpasses the price set for each prize and remains above it for a minimum of 3 consecutive days
– Giveaway will run until STRK reaches $1.00 or 31st December 2022
— The StrikeX Team.
Follow us on Twitter, Discord, our Website and Medium for more exciting news.
StrikeX is a UK-registered limited company, and we're building FinTech tools to empower people to take control of their investments. Our StrikeX Wallet is due for release in Q1/Q2 2022 and our flagship product; TradeStrike is scheduled for Q4 2022.
Token Details
Name: StrikeX
Ticker: $STRX
Contract Address: 0xd6fdde76b8c1c45b33790cc8751d5b88984c44ec
Liquidity Lock: https://bit.ly/StrikeXLiquidity
Available on: TradeStrike Lite DEX (Direct Purchase) / Pancakeswap (or any BSC exchange) / Probit / BitMart
---
The Road to $1.00 Giveaway was originally published in StrikeX on Medium, where people are continuing the conversation by highlighting and responding to this story.