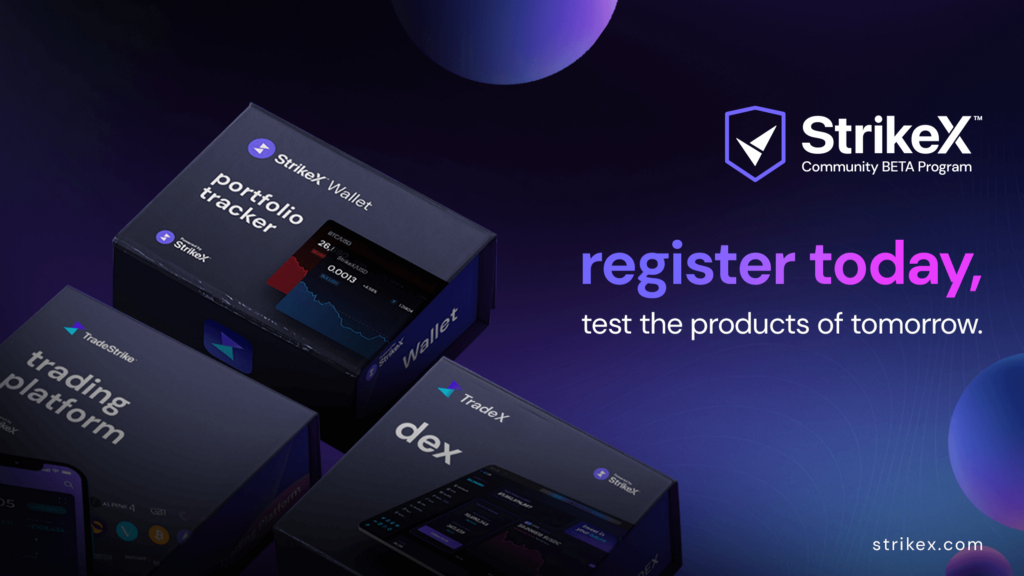 We are thrilled to announce the StrikeX Community Beta Program!
As a company that stands for community and user-centred design, we figured there would be no better way to test our products than to put them in the hands of their future users. Assembling a team from the community brings us even closer to our investors and gives us a chance to get crucial feedback during key stages of development.
StrikeX Community Beta Program members will be instrumental in the testing and delivery of our products, starting with the upcoming wallet and every future release in our roadmap. Testers will work closely alongside the StrikeX team and will be required to provide their feedback and test results over the duration of our Beta testing phase. Creating a long-term program for our Beta testers ensures development and features continue to be aligned with the specific needs of retail investors.
Registrations to become a member of the StrikeX Community Beta Program are now open to everyone. This is a chance to help us shape the future of trading. Spots are limited, so all submissions will be reviewed by the StrikeX team. Those selected will be contacted to complete their application and get all the necessary agreements in place.
You can register here: https://mkt.strikex.com/beta-program
Looking forward to working with you!
— The StrikeX Team.
Follow us on Twitter, Discord, our Website and Medium for more exciting news.
StrikeX Technologies is a UK-registered limited company, and we're building FinTech tools to empower people to take control of their investments. Our StrikeX Wallet is due for release in Q2 2022 and our flagship product; TradeStrike is scheduled for Q4 2022.
Token Details
Name: StrikeX
Ticker: $STRX
Contract Address: 0xd6fdde76b8c1c45b33790cc8751d5b88984c44ec
Liquidity Lock: https://bit.ly/StrikeXLiquidity
Available on: TradeStrike Lite DEX (Direct Purchase) / Pancakeswap / Probit / BitMart
---
The StrikeX Community Beta Program goes live! was originally published in StrikeX on Medium, where people are continuing the conversation by highlighting and responding to this story.